Rethinking Body Corporate Management
A high focus on customer service and the creation of enduring relationships with clients is essential. Auckland Body Corporate maintains a strong commitment to ensuring best practices are utilised, full compliance with all regulatory requirements, and an emphasis and a policy of undertaking proactive maintenance for clients.
Professional Bodies
BCCG – Body Corporate Chairs Group.
The Body Corporate Chairs Group provides ongoing education, training and support to to Body Corporate Chairpersons and Committees.
Auckland Body Corporate is a member and active supporter and presenter to the Body Corporate Chairs Group.
Auckland Body Corporate and Bayleys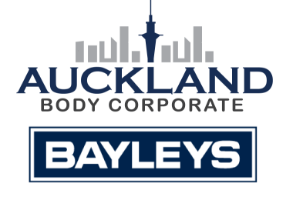 Auckland Body Corporate is part of the Bayleys group, and its core task is to free up your time, by providing proactive and hassle-free management of your property, whether that be a body corporate, strata title, incorporated society or cross lease.
Main point of difference we deliver to our clients is the ability to offer a customer based body corporate administration service that allows you to get on with your life, while we take care of the management of your strata title property.
Contact Auckland Body Corporate
If you'd like to get in touch with Auckland Body Corporate, please fill out the form below. One of our team will be in touch within 24 hours.