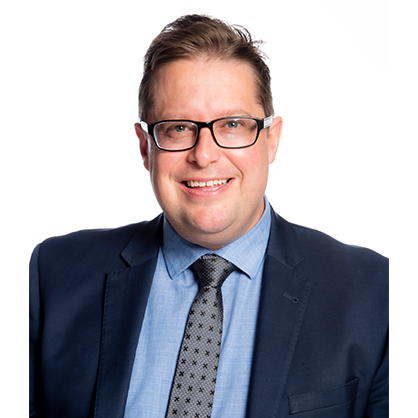 As General Manager Chris Newman leads the Team at Auckland Body Corporate. Chris' experience spans over 15 years in the strata industry in New Zealand, which has provided him with significant practical experience in Body Corporate and community management, across both commercial and residential projects.
Auckland Body Corporate was established by Chris in conjunction with Bayleys Real Estate, who saw a need for a professional service offering providing a premium service, for an industry that is undergoing significant compliance change.
Bayleys and Chris recognised that with strata title properties becoming a more affordable option for owners, the demand for professional body corporate administration services is growing. As part of Bayleys commitment to providing a full range of property services to their clients, Auckland Body Corporate was created to ensure Bayleys clients have access to the best property advice and services available in the New Zealand market.
Chris believes in the services offered by Auckland Body Corporate being tailor-made for all of the commercial and residential strata properties under their management. This approach requires an in-depth specialist understanding of the nuances related to each individual property.
Chris' extensive experience working with major developers also ensures that Auckland Body Corporate are well catered for with robust setup processes ensuring that developers maximise the appeal and value of their property offering, with a strong focus on community creation.
Chris holds a Bachelor of Property from The University of Auckland which has equipped him with the theoretical knowledge of the property industry in New Zealand and is part way through completing a postgraduate diploma in Dispute Resolution. This qualification has provided Chris with valuable experience in conflict management which is now one of his strengths and an important part of his role.
One of Chris' strongest qualities is his ability to build strong relationships with clients from a diverse range of backgrounds, through his exceptional leadership and communication skills. Chris' calm, rational, proactive approach is a great asset to all Body Corporate and these core skills in conjunction with his own professional values are a great asset to Auckland Body Corporate.
Chris is an active member and supporter of the industry bodies Strata Community Association NZ (SCANZ) and Body Corporate Chairs Group (BCCG), and currently serves as an approved SCANZ trainer and has a presenter to BCCG. Chris is also a member of Auckland Toastmasters, the Downtown Auckland Rotary Club, and the Remuera Golf Club.
Chris' exceptional leadership and client relationship building skills, in-depth knowledge of the community management industry, and detailed understanding of strata title property benefit the strategic planning and overall operations not only of Auckland Body Corporate but also all of the communities under Auckland Body Corporate management.